Beth issued a challenge last week to find the "magic" (or lights) in the holiday week.

It's something I have noticed since we decorated. Reflections of Christmas. They are everywhere in doors and windows, around every turn and corner, on roofs and trees.
Lights. Lovely lights. Reflective lights.
Christmas
A view away. A turn. A pause. Are you looking?
Magic awaits. The magic of Christmas. Do you sense it?
Joy and Love. Filling hearts. Do you feel it?
Lights and glow. A surface away. Do you see it?
Reflective and imaginative, if only you just look.
Christmas, it's here!
Merry Christmas from our house to yours. May the love of Christmas find you and wrap you in its arms. Enjoy your family. Feel the blessed magic that Jesus brings. Merry, Merry, Merry (three merrys for three girls, three dogs, three tens) Christmas to you!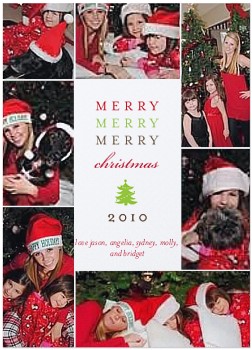 Merry Moments Christmas Card
For hundreds of Christmas card designs, click here.